Course Offer at Bachelor Level
Call for applications by Students at the T4EU Alliance Universities
Dear T4EU Students! The registration for the T4EU Course Offer at Bachelor Level is open! Now you may choose the subject from the offer prepared by seven universities from our alliance.
The university network Transform4Europe aims to train a new generation of young Europeans who will work together across disciplines and acquire digital, intercultural and entrepreneurial skills. This training enables you to actively shape the necessary transformation processes in Europe.
The Transform4Europe Alliance gives you the opportunity to incorporate a succinct programme – a European-oriented course offer at Bachelor level that leads to a certificate with up to 24 ECTS – into your studies.
The Transform4Europe Track consists of common core modules on the topics of Knowledge Entrepreneurship, Languages & Intercultural Competencies and European History, Politics, Culture, Law, Economy, and optional challenge-based modules covering the three Transform4Europe focus areas of digitalisation, ecology and sustainability as well as social change and inclusion. Each student has the opportunity to choose one of the three in-depth modules.
Exchange ideas with students from other academic disciplines.
Gaining and developing European competences in a narrower relevant subfield.
Increase your career opportunities by unique profile development.
Increase future research and career opportunities in interdisciplinary fields.
Networking possibilities with students from other European universities.
Subsidised international mobility.
You select the Track according to your needs and interests from 3 optional challenge-based
Tracks:
Digital transformation and smart regions
Environmental transformation and sustainability
Societal transformation, community building and inclusion as well as courses from the offered cluster of courses each semester in one of the challenge-based packages and from any of the core modules.
The Alliance Universities offer core and challenge-based modules every semester. You follow the offered selection and assemble your own Transform4Europe Track at your own pace and interest in your previously selected Track.
All the selected courses are recognised at your university either as part of your main field of study or alongside as additional elective courses.
Once you graduate and complete the Track, you receive a certificate testifying the completion of a Transform4Europe Track under the challenge-based Track or cluster title.
Please see below the course list for the three thematic areas:
Digital Transformation,
Environmental Transformation,
Societal Transformation.
We offer in these areas the specialised module courses. These three areas consist also of the three core module strands:
Knowledge Entrepreneurship,
Languages & Intercultural competencies,
European history, politics, culture, law, economy.
---
Important information: the course offer will be expanded on an ongoing basis. Please follow us on our Facebook page to make sure you don't miss any information on the newly added subjects.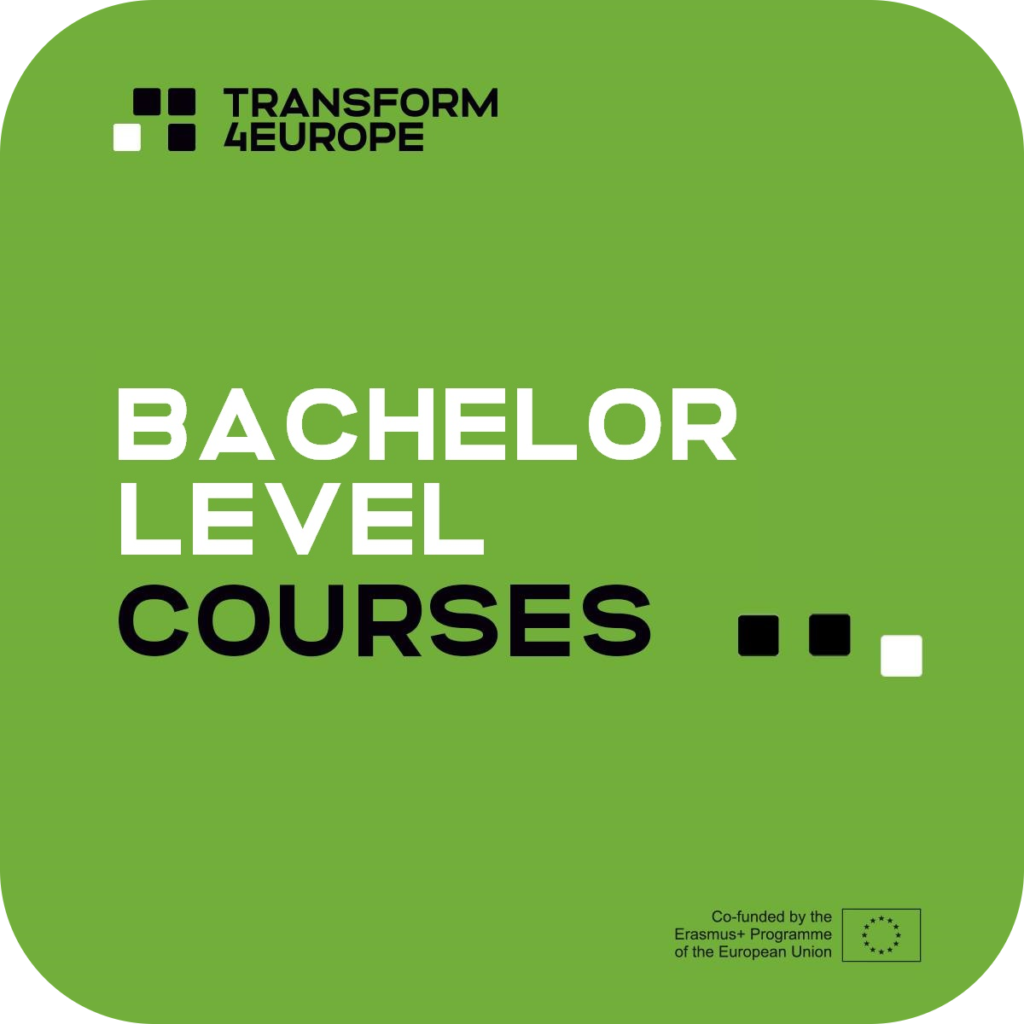 Autumn/winter semester 2023–2024
Check the list of courses with their descriptions below. Click the "Register now" button to choose the course you are interested in, and fill in the registration form.
Specialized Module Courses
HOW TO ACCESS THE ONLINE STUDY OFFER
Once your application is handled, you will be able to access the online course by logging in to the host university's e-learning platform with your institutional credentials. You may receive further information from your lecturer.
Autumn/winter semester 2023–2024
Vytautas Magnus University in Kaunas
Course start: September 4, 2023
Registration Period: August 16 to August 29, 2023 
End of Teaching: December 1, 2023
End of Exams: from December 4 to December 23, 2023; Retakes from January 3 to January 5, 2024 
Course start: October 23, 2023
Registration Period: August 19 to September 22, 2023
End of Teaching: February 9, 2023
End of Exams: approx. end of February, 2023
The Estonian Academy of Arts
Registration Period: Enrolment is opened till October 5, 2023